Landscape & Conservation Planning
Since the beginning of the European settlement, the landscapes and natural ecosystems of southern Ontario have been altered and fragmented more rapidly and extensively than in any comparable period in history. For over a century, conservation and natural resource managers in these settled landscapes have tried to mitigate the negative impacts caused by the loss and fragmentation of natural vegetation cover. The concept of regional systems of ecological networks was introduced to bridge the gap between land use planning and conservation initiatives; to design and establish "green systems" or landscapes made up of core conservation lands and waters linked by natural corridors or restored connections. As landscape networks, they are vital for the conservation of biological diversity, natural processes and viable populations of native species and ecosystems. The methods and approaches used to delineate these green systems need to consider the regional context, explicit conservation targets, stakeholder engagement and scenario planning.
Green Systems Design Planning

A number of local organizations, partners and stakeholders from across southern Ontario are working together regionally to design and plan green systems for their local landscapes. Their efforts to conserve and wisely manage the natural areas on their local landscapes help to maintain a good quality of life for people living in their region.
Predictive Mapping & Modeling
Predictive vegetation maps serve as decision making tools and provide critical information for many landscape planning and management activities. Vegetation maps can be produced by developing predictive vegetation models that use remote sensing image classification techniques to model vegetation distribution, structure and characteristics across different spatial and temporal scales.
The Settled and Urban Landscapes research group uses statistical modeling and prediction techniques to map historical, present and future vegetation distribution. Predictive vegetation models are also used to map ecological goods and services (e.g., carbon biomass) and other vegetation characteristics (e.g., floristic quality, vertical structure, quality / health of vegetation). The maps and models have different applications that range from forest conservation, forest restoration, green systems design, natural resource management and land use planning initiatives.


Predictive Mapping & Modelling Projects
Inventory & Monitoring Protocols
Inventory and data collection are the most fundamental component of any long-term natural resources management, conservation, planning or restoration activity and decision making process. In southern Ontario's dynamic social and natural environment, these processes require baseline information that can be readily used and adapted to different spatial and temporal scales.
Inventory and Monitoring of Vegetation Communities
Vegetation Sampling Protocol (VSP)
: VSP is a quantitative, integrative and adaptable method for sampling different vegetation types in the field. The protocol can be used to sample a variety of habitat types including forests, wetlands, and grasslands, for either site-specific or landscape-level applications. Baseline VSP data can support a number of research and practical applications, as well as important initiatives in southern Ontario. For example, VSP data can be used as input for predictive vegetation modeling and mapping, which in turn creates landscape-scale mapping that can be used as input for Natural Heritage System (NHS) Planning or species at risk (SAR) protection/recovery planning.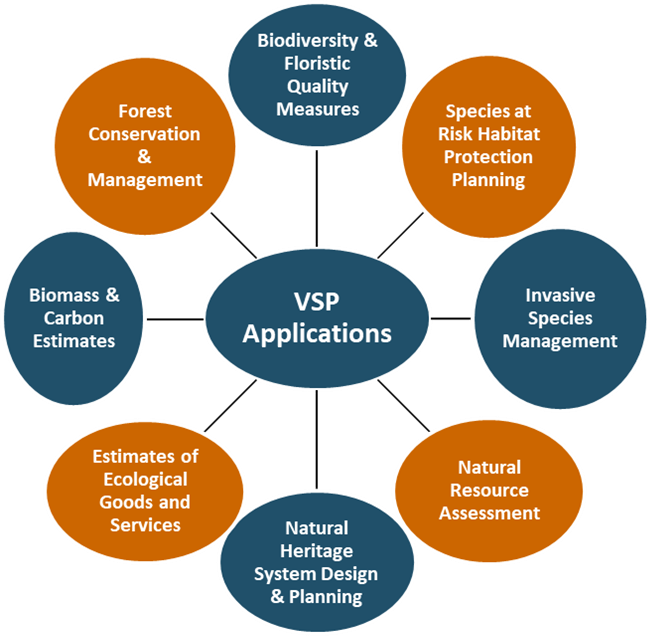 VSP can be used to support the following research:
Quality & Diversity of Urban Natural Areas
Urban Forest Structure & Composition
Forest Cover Change Over Time
Forest Vulnerability to Climate Change
Landscape & Forest Resilience
Spatial Restoration Planning
Ecological Goods & Services
Integrated Landscape & Conservation Planning
Species at Risk (SAR) Distribution Modeling
Invasive Species Management
Capturing Common Species
Gap Analysis



Inventory & Monitoring of Single & Community Trees
Neighbourwoods©
: Neighbourwoods© is a tree inventory, monitoring and stewardship program andapproach. Neighbourwoods© is designed and envisioned to help community groups and volunteers conduct an inventory of their urban forest, and further use that knowledge to inform urban forest stewardship, management and conservation in their communities and neighbourhoods. Since its inception in 1995, Neighbourwoods© has been used and applied by many communities across Ontario and wider.
Climate Change
Rapid climate change is having direct and indirect negative impacts on vegetation health, composition, structure and productivity, and can be observed through changes in species range and distribution, abundance, health, growth (biomass), phenology, seed production and productivity.
Climate Change & Species Distribution Projects
Urban Forest Footprint
Urban forestry has over a 50 year-long history in Canada and over the years it has evolved and expanded. However, a program that strategically links and directs urban forestry efforts at the national, provincial and municipal levels does not exist. Urban forestry includes a wide range of elements that are usually perceived in isolation; from policies, regulations and by-laws to diverse management and stewardship activities. Urban forestry activities can also include spatial and green systems design, and various conservation efforts. The objectives of Canada's Urban Forestry Footprint project are to i) capture and map the distribution of municipal urban forest activities; ii) assess the state of urban forestry and stewardship initiatives across Canadian municipalities; and iii) show spatially, where programs are absent or where information gaps exist.
Canada's Urban Forestry Footprint Project