The Lake Simcoe Watershed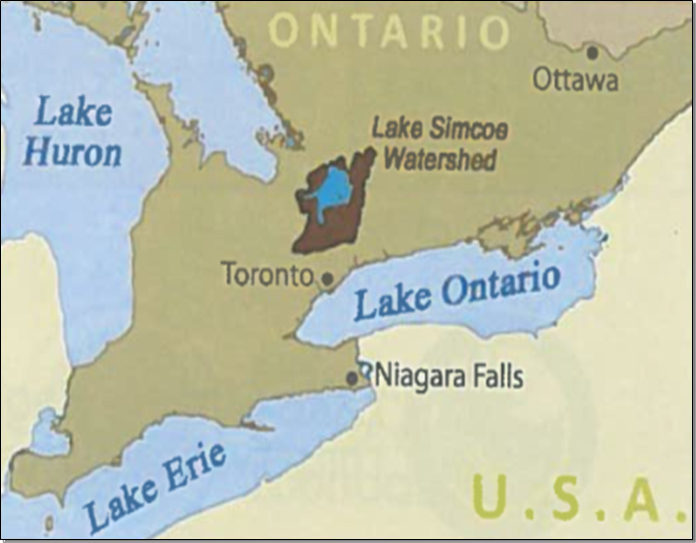 Lake Simcoe is a large, inland lake in central Ontario surrounded by a land base of 2899 km2 that includes a combination of growing urban areas, extensive agriculture and natural cover.
Knowledge of the terrestrial vegetation in the watershed is critical for the maintenance of the Lake Simcoe ecosystem; however, it has been exposed to many stresses over the years. Invasive plants, climate change, and human pressures (such as land development, urbanization and habitat fragmentation), have had an impact on vegetation health. By monitoring vegetation it is possible to define when, where and to what extent these impacts are occurring, as well as how they impact the Lake Simcoe ecosystem. This information will inform the adaptive management of the watershed and the lake.
The Lake Simcoe Protection Plan (2009)
The Lake Simcoe Protection Plan (LSPP) was finalized in 2009. This plan to protect the lake and its watershed includes a monitoring component for terrestrial features. This project will help inform and report on many of the requirements of the plan so that we can set up a regular monitoring program for the watershed.
The plan requires defining "High quality" natural vegetation cover. This means that the cover demonstrates a number of characteristics that influence the functional ability of a feature such as shape, age, structure and area of cover (LSPP 2009). The information gathered through the Lake Simcoe Watershed Monitoring Program will form the baseline information upon which a formal definition of "high quality vegetation cover" can be developed for the watershed.
More on the LSPP - Click on the Links Blow:
Vegetation Cover in the Lake Simcoe Watershed
Enough large-scale information is available to estimate how much terrestrial vegetation currently makes up the Lake Simcoe watershed, however reliable site-level information on the composition (e.g. vegetation structure, species composition and age) of this cover is currently not available. The Lake Simcoe Watershed Monitoring Program will help us to start the monitoring process and establish a baseline condition, track changes in the watershed, define high quality natural vegetative cover, and make forecasts that would allow the implementation of timely management actions.
Lake Simcoe field members on Snake Island surrounded by invasive Dog Strangling Vine (Cynanchum rossicum) (August 2015).